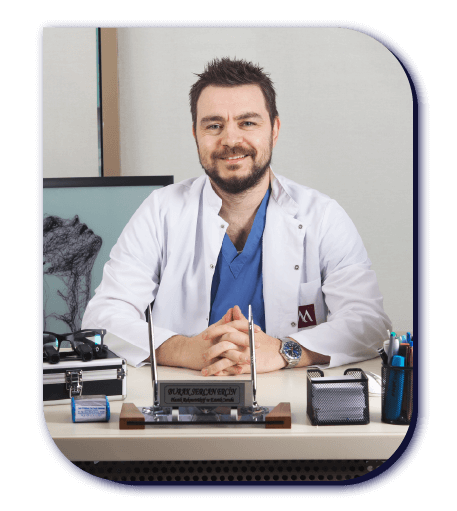 Op. Dr. Burak Sercan Erçin
I was born in 1986 in İzmir. I am married and have two children. I completed primary school at Ali Şir Nevai Primary School, secondary school and high school at İzmir Çiğli Milli Piyango Anatolian High School. I graduated from Ege University Faculty of Medicine in 2010. During my compulsory service in Van Erciş, I passed the specialization exam and started my specialization in the Department of Plastic, Reconstructive and Aesthetic Surgery at Ege University.
During my residency, I worked with Dr Deniz Dayıcıoğlu at the University of South Florida and Tampa General Hospital-USA to increase my knowledge and experience in the fields of breast reconstruction and burn reconstruction. Again in the last year of my residency, I had the opportunity to work with Dr Pedro Cavadas, one of the world's leading reconstructive microsurgeons, in Valencia-Spain. After receiving my specialization in 2017, I completed my compulsory service at Siirt State Hospital.
Just before completing my compulsory service, I successfully passed the 2018 EBOPRAS (European Board of Plastic, Reconstructive and Aesthetic Surgery-EBOPRAS) exams and was awarded a qualification diploma.
After the compulsory service, I joined Dr Pedro Cavadas' team again as a clinical fellow. I had the opportunity to work one-on-one in many advanced reconstruction surgeries. Later, I returned to Turkey and switched to the private sector and started working as a Plastic Surgeon in Gebze Medikalpark and Kocaeli Medikalpark in February 2019. Although I have been working as a Plastic Surgeon at Pendik Medikalpark since 2020, I have been continuing my academic activities as a doctoral faculty member at Bahçeşehir University Plastic, Reconstructive and Aesthetic Surgery Department since 2021.
Reconstructive surgery (repair surgery), hand and microsurgery, lower extremity surgery, head, and neck surgery, and breast reconstruction, breast, face, and body aesthetics, craniomaxillofacial surgery are the fields that I mostly deal with. I have a special interest in clinical practice, however, I continue to serve in all fields of work required by the branch.